Download Who We Are Brochure
With over 35 years of experience, SERIES Seating has been a global industry leader in design, manufacturing, and installation of ergonomic seating systems. We encompass dynamic ergonomic designs facilitating "active seating" by increasing blood circulation, while reducing back strain, joint stiffness, and muscle fatigue – even after sitting for long periods of time.
We manufacture all seating components in house, which enables SERIES to provide the best quality seating available at competitive prices. We keep environmental protection in mind while surpassing customer expectations, focusing on improving the quality of life, and providing the best products on the market. These principles and values are exemplified through SERIES products, customer relationships, and long-term business relationships.
SERIES Seating established a Miami Florida based company in 1999 focusing on areas where the competing market leaders were not meeting the market needs. Beginning with the Worship Market, SERIES launched innovative designs that soon proved to be the single-most revolutionary influence on worship seating in the last half of a century. Prior to Series' integration, more than 99% of all churches purchasing fixed seating were choosing conventional pews. Less than 1% of the market was purchasing auditorium seating with self-lifting seats, that is, until Series Seating's involvement.
SERIES turned this 99:1 ratio completely upside down, overnight, with the launch of an auditorium seat that created 20% more seating capacity over a conventional pew, while at the same time significantly increasing traffic flow and reducing both maintenance and ownership costs. Since the concept's launch in 1999, there has not been a single church opting in favor of a conventional pew when given the option for self-lifting seats once exposed to the SERIES presentation. Still today, we are the only seating manufacturer offering self-lifting seats in all three worship seating types; Pews, Theater Seats and Stackable Chairs.
SERIES has been equally successful creating a strong reputation in the Performing Arts Market – completing over 70 projects a year. One of our successful winning bids was the Margot and Bill Winspear Opera House in Dallas, Texas, where we developed, manufactured, and delivered more than 2,200 uniquely customized seats.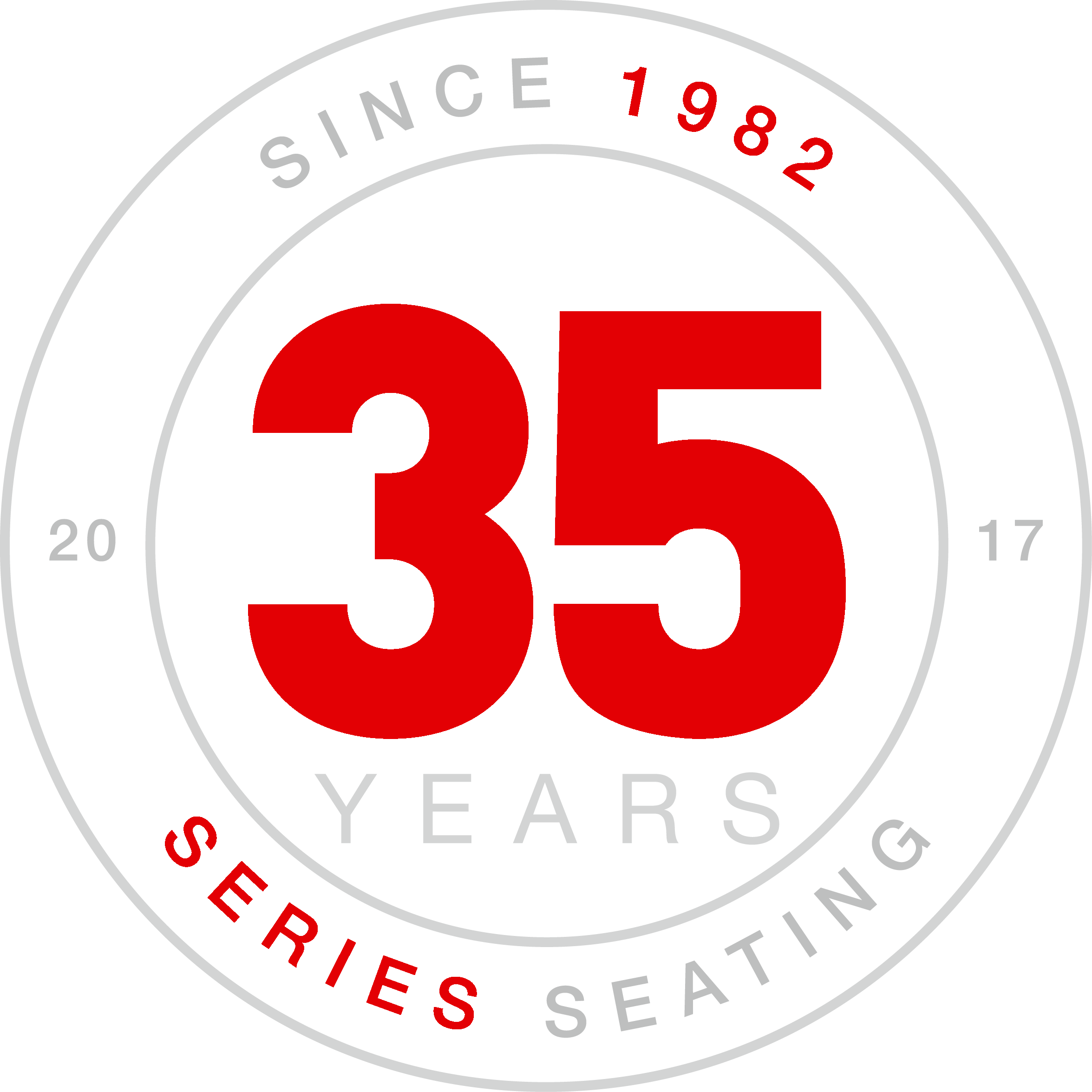 In the Stadium Market, SERIES award winning seating encompasses the greatest product strength, durability, and spacing. We do this by keeping our seats low-maintenance, easy to replace and recover, while maintaining comfort. SERIES understands that with todays easy access to technology and home theaters, sports goers want an equally comfortable experience at the stadium. Our seats are able to provide the best experience for both the venue and the customers. Following these principles has lead us to design seating for many of the world's largest and most well-known sports arenas.
SERIES maintains the same core principles when designing seats in the Education Market. From the effortless replaceable covers to the easily assembled seats, our seats provide low-maintenance long-life durability. SERIES designed the Axis Tablet with these principles in mind. The Axis tablet is the only tablet arm on the market tested for 100,000 Cycles of anti-panic operation. The tablet folds automatically when standing up, creating a safer and easier environment. The Oversized design is comfortable for left and right handed occupants. Not only has this seat single-handedly changed the safety code in the United States, but the seat design has also created an average of 30-40% more space. The increased space efficiency and seating capability results in less square footage required to meet capacity requirements.
SERIES is not just another seating option. SERIES is the new standard in seating across the globe.