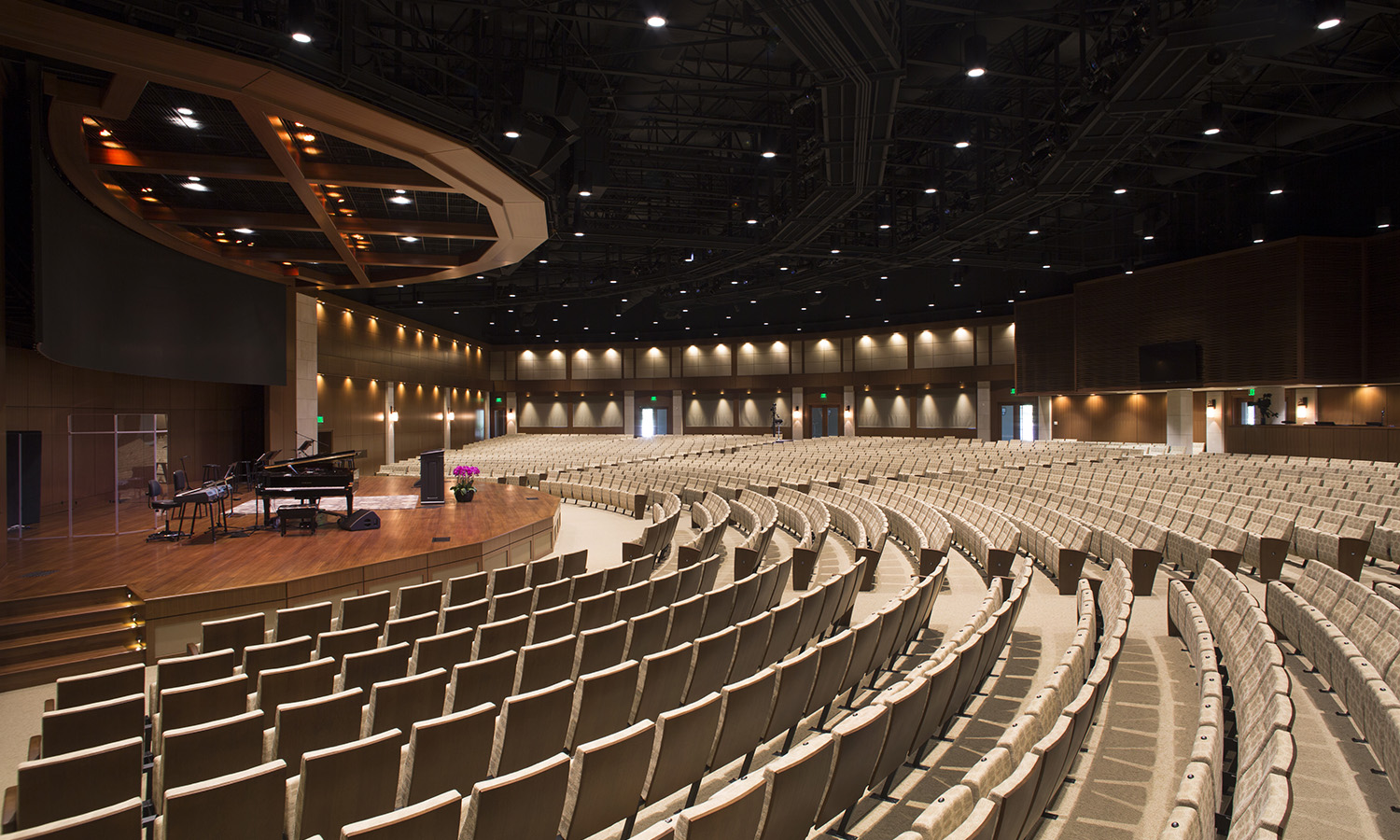 Churches and worship facilities don't go through major upgrades very often, and when the renovation is finally planned, it should include a complete overhaul of the seating inside the church. Literally, for centuries, cold, hard pews were the only choice for seating inside churches, and while they definitely served the purpose, they left something to be desired in terms of comfort and ergonomics for users.
Since 1999, an innovative company called Series Seating has been changing all that in the U.S., offering high-quality, comfortable seating for a number of different venues, including churches, auditoriums, cinemas, restaurants, waiting areas, and more. If your place of worship is a renovation church, you should consider the product lines offered by Series Seating, so your church can have the best seating on the market, made by a U.S. manufacturer which is environmentally friendly.
Series Seating Church Projects
At the time when Series Seating began operations in the U.S. over 99% of all churches in this country had adopted pew-style seating as their preferred method for hosting worshippers. As more and more establishments have become aware of what Series Seating has to offer, that percentage has dropped dramatically, and the vast majority of church attendees are ecstatic about the change.
With seats that are ergonomically designed to relieve stress on muscles, lower back strain, and increase blood circulation, Series seating can make worshippers much more comfortable, even for long periods of time. In addition to the comfort aspect, renovation churches installing Series seating have 20% greater capacity, increased traffic flow, and lower maintenance costs.
The list of churches which have already renovated and installed Series seating is too long to show here, but a small sampling from that list might include Highpoint Church in Memphis, TN; Calvary Church in Grand Rapids, MI; Cedar Valley Church in Bloomington, MN; Perimeter Church in Duluth, GA; Grace Community Church in Boca Raton, FL; and Oak Mountain Church in Birmingham, AL. Even from this very small listing, it should be apparent that churches around the globe have adopted the Series comfortable seating configuration for their establishments. This is not surprising since every church organization which has seen the Series presentation on church renovations has chosen the self-lifting seats made by the company, rather than conventional pews. Find out more information on why customers are choosing Series.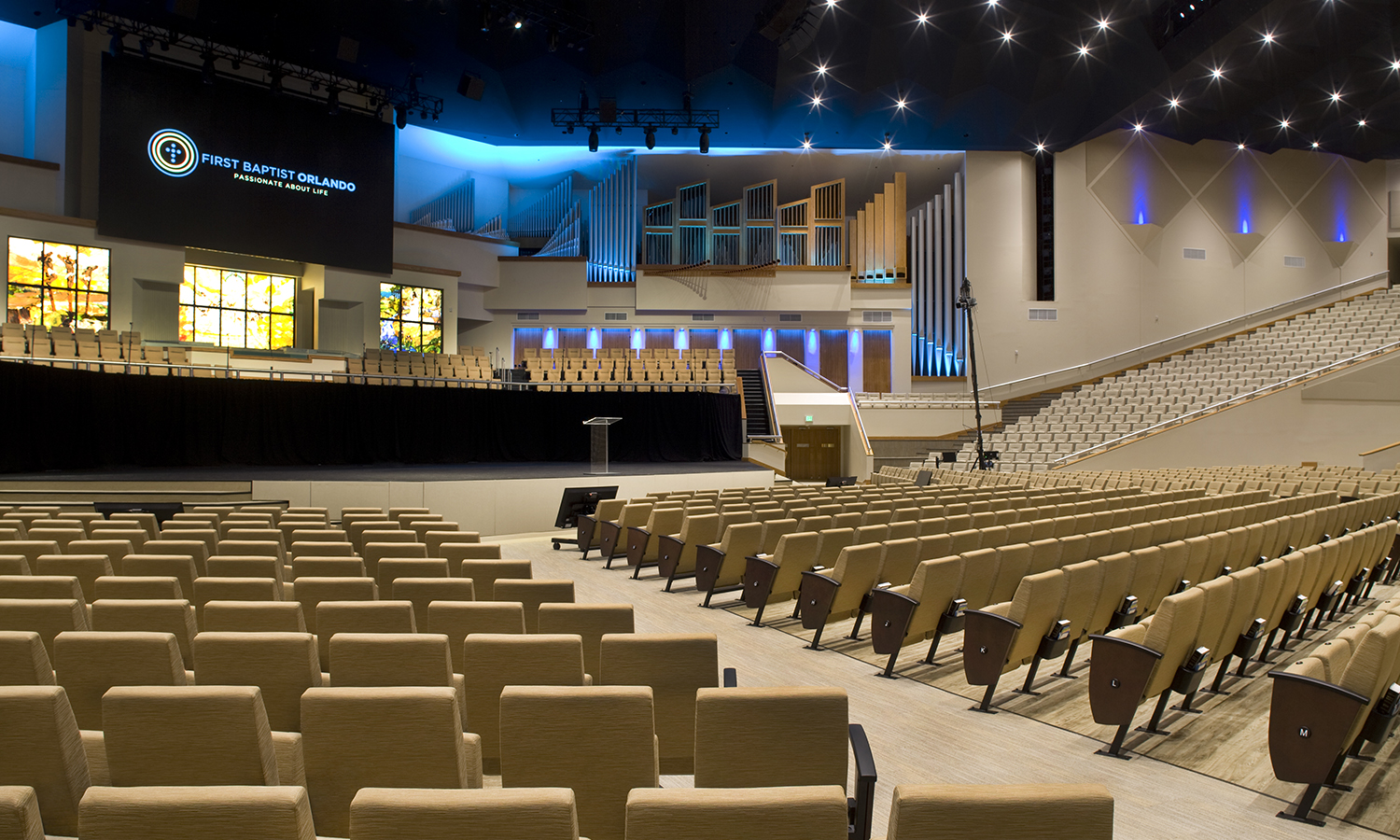 The First Baptist Church of Orlando, FL chose the Vera seating offered by Series, which is available in several variations such as a plush auditorium-style chair, in a variety of different integrations. Willow Creek Church in South Barrington, IL opted for the Celebration chair style, which features thick, comfortable cushions for the back and seat. Oak Mountain Church in Birmingham, AL chose the Optima seating style, which incorporates pew-style benches equipped with comfortable, self-lifting seats that offer more leg room and increase the comfort level of attendees.
Modern Renovation Church Projects
Most contracting companies which are tasked with major renovation projects for churches prioritize an upgrade to the seating which has been previously used, in most cases old pew-style seating. There's a good reason why updating pew seating is one of the first areas reviewed when major renovations are considered for a place of worship, and in fact, there are several reasons why old wooden pews should be replaced in the process. First of all, those hard benches are not at all comfortable for worshippers, especially those who are older and have aches and pains to contend with.
Wooden pews also take up much more space than do self-lifting seats, which automatically retract when the occupant stands up or leaves the seat. That creates much more room for seating than is possible with fixed wooden pews. Most churches typically don't have a big staff on hand to maintain seating either, so it's very important that Series Seating products offer easier maintenance than most current seating options, requiring very little in the way of regular upkeep. Once installed in a church, Series Seating products will keep paying dividends in terms of costs, increased traffic efficiency, and user comfort.
Other Seating Choices from Series
As mentioned, Series Seating offers a wide variety of seating arrangements for establishments which require comfortable and modern seating for their guests and clientele. At the Lincoln Center for the Performing Arts in New York City, NY, Series installed ultra-modern, plush auditorium seating for patrons of the Arts to enjoy. In Jack Loeks Theater in Mount Pleasant, MI, movie-goers have been delighted with the comfortable cinema seating provided by Series.
Sports arenas around the globe now offer Series seating to appreciative customers, at such venues as Mercedes Benz Arena in Stuttgart, Germany; Meydan Racecouse in Dubai, UAE; and Centro de Tecnificacion in Villarreal, Spain. Educational institutions such as the Kings Academy in West Palm Beach, FL, the Friends School Theater in Baltimore, MD, and the LBJ Auditorium in Austin, TX also, offer Series seating to their users. As you can see, Series offers a diverse selection of seating products for all types of church renovation projects as well as non-worship related projects. Read More on Stadium Seating Manufacturing
In addition to these large venues, Series Seating has also been the seating of choice in numerous food courts, waiting areas, and restaurants around the country, as these venues have been made aware of the value provided by long-lasting, durable Series Seating products. As more and more venues become aware of the affordably priced offerings from Series, the many fine Series products are becoming the seating style of choice for establishments all around the country.
Products Discussed In This Article: